Know about Ustrasana its benefits and precautions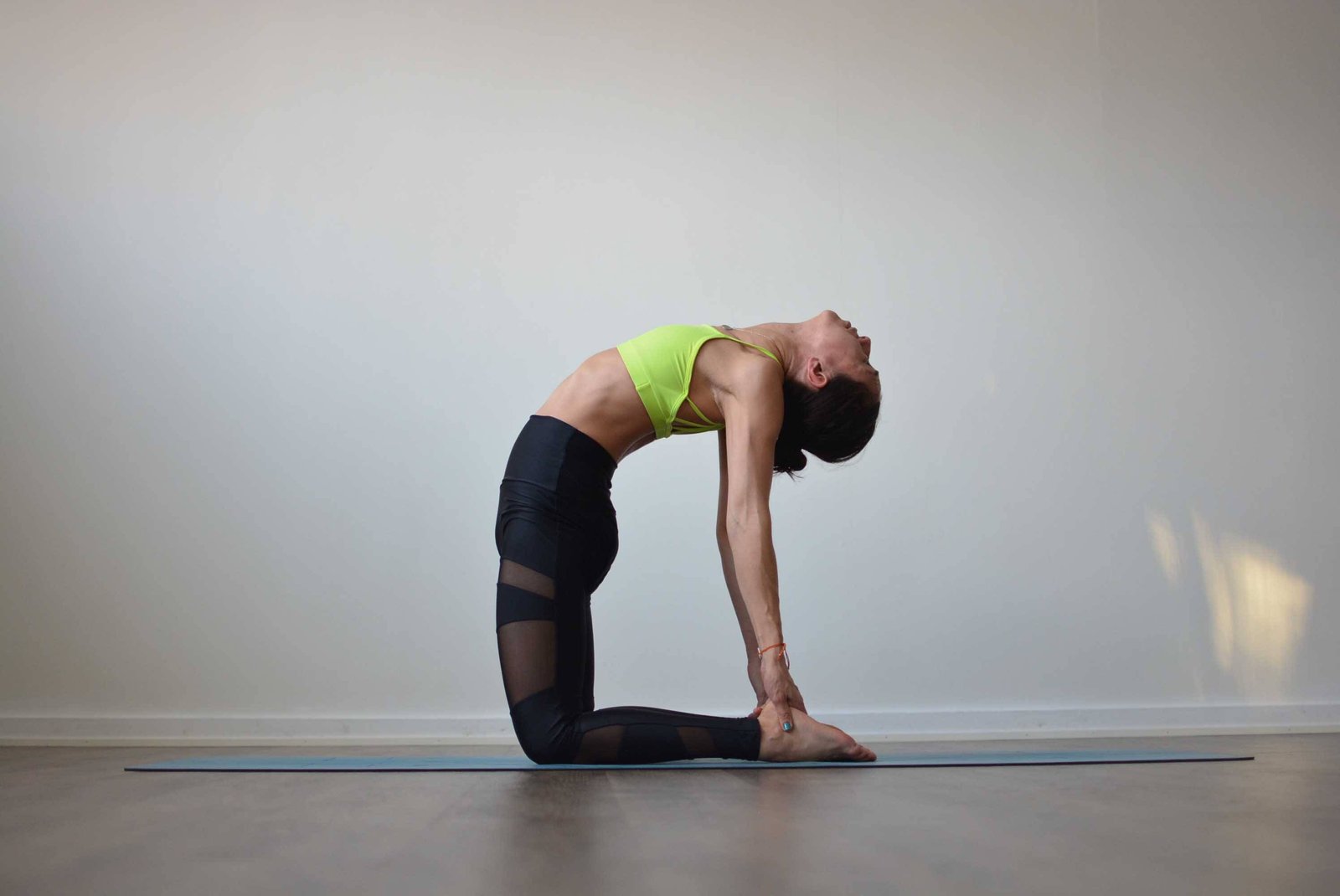 Ustrasana step by step
Kneel on the floor with an erect spine.
Keep your legs hip-width apart.
Rest your hands on the back of the pelvis with thumbs placed on the sacrum.
Rotate your thighs inwards and keep your hips directly over your knees.
Inhale, lean backward, and expand your ribcage.
Keep your chest uplifted, core actively engaged, chin tucked towards the chest while you reach behind with your hands to grab the heels.
Gaze softly at the tip of your nose.
To come out of the pose, bring your hands back to the hips and slowly come up in a standing position.
Hold this pose for 30 seconds.
Benefits of Ustrasana
Ustrasana stretches chest, abdomen, quadriceps, and hip flexors.
Improves spinal flexibility; strengthens shoulders and back muscles, thighs, and arms; tones organs of abdomen, pelvis, and neck; reduces fat on thighs; loosen up the vertebrate; opens up the hips, and improves posture.
Energizes the body, reduces anxiety and fatigue.
Stimulates endocrine glands, kidneys and digestive system stretching the abdomen and also curse constipation.
Stimulates and improves respiratory and nervous systems by proper blood circulation.
Activates thyroid glands.
Ustrasana helps to heal and balance the chakras.
Precaution during Ustrasana
High or low blood pressure
Migraine
Insomnia
Serious low back or neck injury
Know step by step about baddha padmasana its benefits and precautions

Step by Step baddha padmasana
Sit in the Padmasana (Lotus Pose), Keep your feet high on your thighs, just close to the groin.
Place your right arm behind your back and reach around till your right hand is close to the left hip.
Now bow forward a little; twist your trunk to your right side and try to grasp the right thumb of the toe, firmly resting on the left thigh with the index finger and the middle finger.
Sit straight and remain in the position for a few seconds.
Equivalently, place your left arm behind your back; crossing your right arm, and reach around till your left hand is close to your right hip.
If you get anger again and again then this post is surely for you
Now bend forward a little. Twist your torso to the left and bring your shoulder blades together, try to grasp the left thumb of the toe, resting on the right thigh firmly with the forefinger and the middle finger.
Sit straight and remain in the position for a few seconds.
Now your arms and legs are tightly locked.
Try to keep your head, neck and spine straight.
Your knees should press the ground.
Look straight forward and breathing normally.
It is the final position of Baddha Padmasana.
Try to hold this pose for about ten seconds or as long as you can.
Now release your hands and open the foot lock and come back to the initial position.
Repeat the same process with your alternate legs and hands also.
Benifits of baddha padmasana
Make your legs flexible.
It stretches the joints of shoulders, wrists, back, elbows, hips, knees, ankles and makes them more flexible.
Beneficial in the shoulders and back pain.
Asana improves the posture of the spine.
It increases the range of shoulder movements.
It is beneficial in constipation and improves the functions of the digestive system.
Daily practise of this Asana is beneficial in Arthritis.
Helps to make your spine straight.
Baddha Padmasana Helps to Stimulate the Reproductive Organs
This pose creates a certain flow of pranic currents towards the brain that calms down the mind making it fit for introversion and higher practices of meditation.
Taliban threatens America, evacuate US Army by August 31, or ready for consequences
Precaution During Baddha Padmasana
Avoid this asana in case of a knee injury, severe back or shoulder pain.
Pregnant women avoid this Pose.
If you really want to get all the benefits of Asana and Pranayama you have to practice daily.
Supervision of a well-educated trainer is strictly recommended.
Know about Bhujangasana (Cobra Pose) its benefits and precautions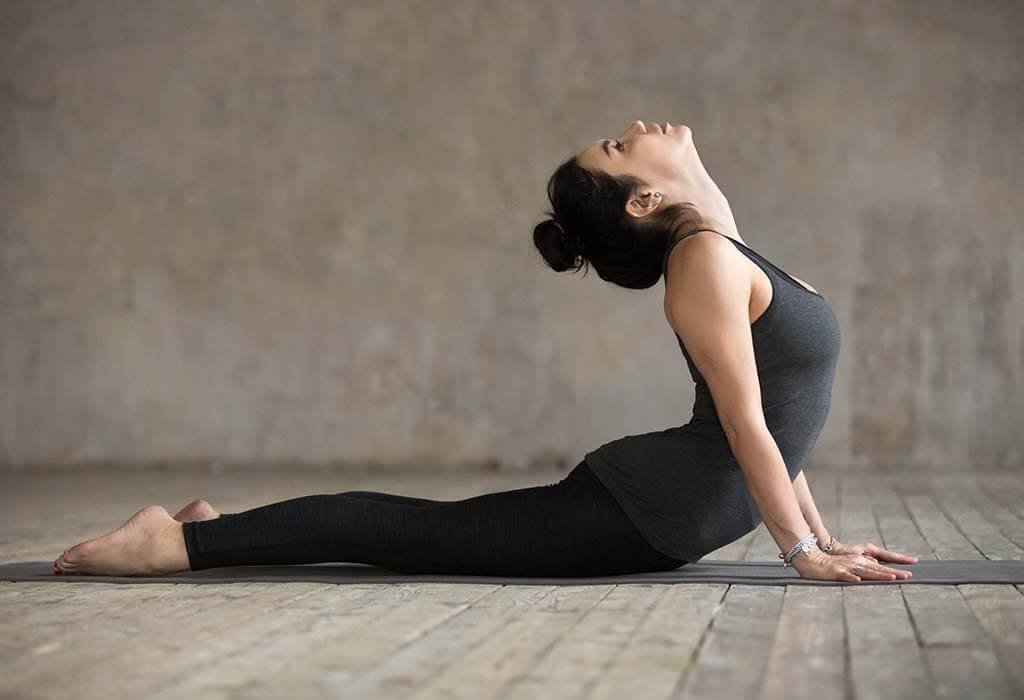 Bhujangasana (Cobra Pose) step by step
Lie flat on your stomach. Place your hands on the side and ensure that your toes touch each other.
Then, move your hands to the front, making sure they are at the shoulder level, and place your palms on the floor.
Now, placing your body's weight on your palms, inhale and raise your head and trunk. Note that your arms should be bent at your elbows at this stage.
You need to arch your neck backward in an attempt to replicate the cobra with the raised hood. But make sure your shoulder blades are firm, and your shoulders are away from your ears.
Press your hips, thighs, and feet to the floor.
Hold the asana for about 15 to 30 seconds while breathing normally. Feel your stomach pressed against the floor. With practice, you should be able to hold the asana for up to two minutes.
To release the pose, slowly bring your hands back to the sides. Rest your head on the ground by bringing your forehead in contact with the floor. Place your hands under your head. Then, slowly rest your head on one side and breathe.
Benefits of Bhujangasana (Cobra Pose)
Increases flexibility
Tones the abdomen
Strengthens the arms and shoulders
Decreases stiffness of the lower back
Stretches muscles in the shoulders, chest and abdominal.
Improves menstrual irregularities
Elevates mood
Firms and tones the buttocks
Stimulates organs in the abdomen, like the kidneys
Improves blood circulation
Relieves stress and fatigue
Opens the chest and helps to clear the passages of the heart and lungs
Improves digestion
Strengthens the spine
Soothes sciatica
Helps to ease symptoms of asthma
Precaution during Bhujangasana (Cobra Pose)
Avoid practicing Bhujangasana if you are pregnant, have fractured ribs or wrists, or recently underwent abdominal surgeries, such as for hernia.
Also avoid doing Bhujangasana if you suffer from Carpel Tunnel Syndrome.
Practice Cobra Pose under an teacher's guidance if you have suffered from chronic diseases or spinal disorders in the past.
Know about Dandasana its benefits and precautions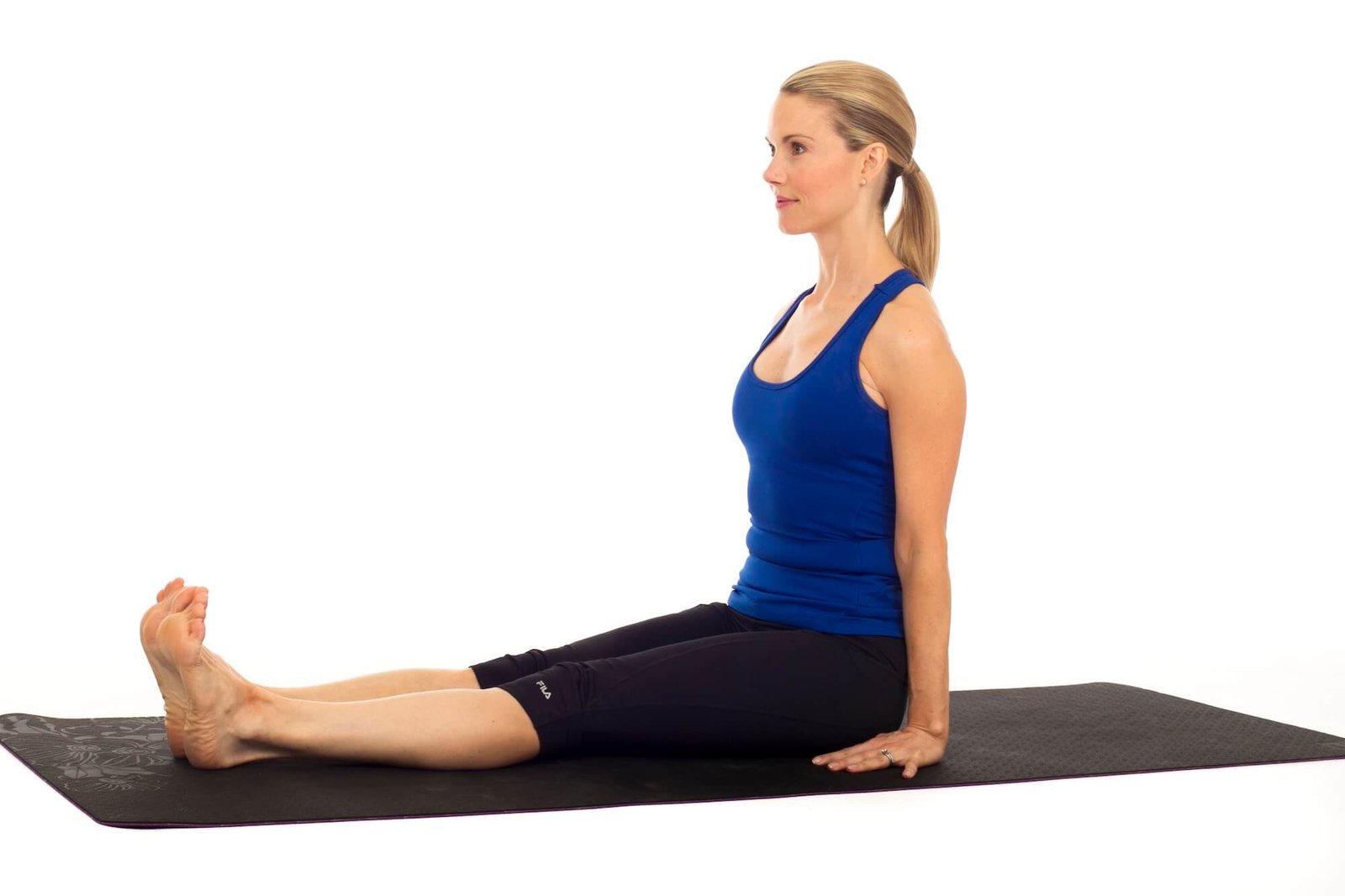 Dandasana Steps
Sit on your yoga mat with the legs outstretched in front of your body. Point your big toes upwards.
Keep the spine and neck erect, legs together and feet gently touching each other.
Place the palm on the floor by the side of your hips, point fingers towards the toes.
Keep the arms straight to provide firm and gentle support to the spine.
Stretch your big toes towards yourself and firmly press your thighs and heels into the floor.
Engage the muscles of your legs to root your legs down into the ground.
Gently press your palms against the floor to elongate your back.
Stretch the spine upwards right from the pelvis to the top of your head.
Lift your chest up and slightly draw your shoulders back to broaden your collarbones.
Maintain a straight gaze and take slow breaths.
Hold Dandasana from 20 seconds to a minute depending on how long you feel comfortable.
Benefits of Daandasana
This asana helps to strengthen the muscles on your back.
It also helps to stretch the chest and the shoulders.
With regular practice of this asana, your posture is sure to be improved.
The abdomen is stretched and strengthened as well.
It is known to cure sciatica and asthma.
This asana helps to focus and calm the mind. When paired with proper breathing, it relieves stress and helps enhance concentration.
Precaution During Asana
Any wrist or lower back injury